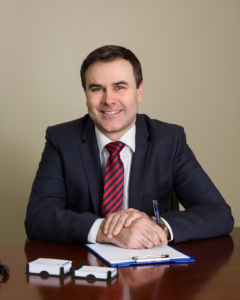 Eoin O'Gorman qualified as a solicitor in 1996 having obtained a Bachelor of Commerce degree from University College Cork in 1991.   He served his apprenticeship with MJ O'Connor & Co. Solicitors, Wexford between 1993 and 1996.  After qualifying as a solicitor, Eoin joined James P. Coghlan & Co. Solicitors, New Ross and became a partner in 2001.  He remained a partner in James P Coghlan & Co (which became Coghlan Kelly Solicitors in 2005) until 2014.  Eoin set up his own practice in 2014 and in 2017 he moved his practice to a larger and more modern building on Crescent Quay in Wexford town.
Eoin has extensive experience dealing with private clients and commercial clients.  He is a member of the Law Society of Ireland and the Wexford Solicitors Association.
Eoin is also a Notary Public (commissioned for life) and is a member of the Faculty of Notaries Public of Ireland.
Eoin is a born and bred Wexford man and is married to Annette (nee Williams, another long standing Wexford family) and they have four children. He is an avid sportsman and played Gaelic football and hurling and soccer and has a great interest in sports.   He is an active underage coach with The Faythe Harriers Hurling and Camogie Club.
Eoin can be contacted at eoin@ogormansolicitors.ie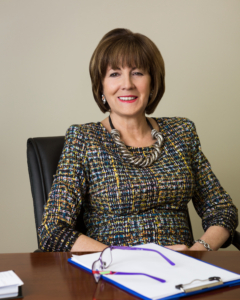 Caroline O'Connor qualified as a solicitor in 1974 and she then headed to Canada for two years to broaden her  legal experience.  On returning to Ireland she worked as an assistant in two different offices before opening her own practice in Taghmon in 1979 A few years later she was joined by her secretarial staff Breda Nolan and Marie O'Sullivan who loyally remain with her to this day.  After a few years in Taghmon and due to the expansion of her practice she moved to Cornmarket in Wexford in the early 1980's.  Caroline and her staff joined Eoin O'Gorman Solicitors in January, 2017.
Caroline has gained legal expertise in many areas over the last 35 years.  She has acted for numerous developers in the setting up and sale of large housing estates.  She has also acted in once off sales, purchases and loans of residential and commercial property.  She has specialised in advising on transfer of farms  and businesses, estate planning, drafting wills and the administration of estates after death.
While running her practice, Caroline sat on and chaired a tribunal  for ten years.   In the area of litigation she has successfully acted for many injured parties in accident or employment connected injuries.
After being involved in a general and varied legal practice for so many years Caroline has gained a practical experience  and wisdom which benefits her clients
Caroline can be contacted at caroline@ogormansolicitors.ie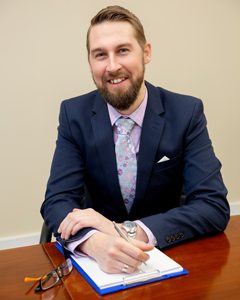 Paul Brady joined Eoin O'Gorman Solicitors in September 2020 having previously worked in Gartlan Furey Solicitors and also Cormac O'Ceallaigh & Co Solicitors.  He completed an Honours Bachelor of Law Degree in Maynooth University in 2016.  Paul specialises in acting for buyers and sellers in all types of residential and commercial property transactions
Paul can be contacted at paul@ogormansolicitors.ie